Owens Corning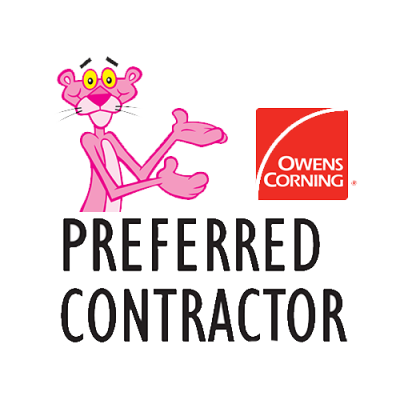 Dan Shepler Roofing is proud to offer Owens Corning products to our clients as well. Here's a brief summary of the products we have from Owens Corning:
Roofing:
Owens Corning offers a wide and diverse selection for all your roofing needs. This includes a very large selection of shingles such as composite slate and asphalt (many materials, colors and textures to choose from) as well as:
Ventilation Products - Proper roof ventilation ensures the maximum life and performance of your roof. Without adequate ventilation, the best roofs fail.
Ice & Water Barrier Products - Your roofing system must include protection from wind-driven rain. This is accomplished by installing Ice & Water Barrier directly beneath the shingles. Owens Corning offers WeatherLock® Self-Sealing Ice & Water Barrier Products and our Fiberglas™ Reinforced Felt Underlayment product. All are designed for both new construction and re-roofing projects. Without proper protection, wind, rain, ice and other elements can easily damage your new roof. See how Owens Corning's family of Ice & Water Barrier Products stops the worst Mother Nature has to offer.
Underlayment Products - Reinforced Felt Underlayment provides an extra layer of protection beneath the shingles to help prevent wind-driven rain from reaching the roof deck.
Hip and Ridge Shingles - Add an attractive, finished look to your roof's hips and ridges. Not only do they increase the character and curb appeal of your home, but they also provide excellent protection to your roof's peak.
Starter Shingle Products - Decrease installation time and costs with Owens Corning's Starter Shingle Products
Raft-R-Mate Attic Rafter Vents - A well-ventilated attic has under-eave or soffit vents, which allow fresh air into the attic. The fresh air flows up between rafters to the ridge, where a ridge vent, roof vents or gable vents allow the air to exit. But if insulation is allowed to bunch against the inside slope of the roof between the rafters, air will be blocked before it can traverse the attic. RAFT-R-MATE® attic rafter vents create a space between each rafter for air to flow freely up the rafters and into the attic.
Insulation:
Homeowners find EcoTouch® insulation easy to handle and install. In addition, EcoTouch insulation:
Delivers comfort – helps homes stay cooler in the summer and warmer in the winter
Helps reduce monthly heating and cooling costs for the life of the home
Sustainability Benefits:
Certified to include a minimum of 58% total recycled content
Greenguard verified to be Formaldehyde free
Contains more than 99% natural ingredients
Owens Corning also offers Basement Finishing Systems, Windows, Sunrooms and wide selection of composites. We can meet, evaluate your needs with you, make recommendations and give you a FREE quote for your project!